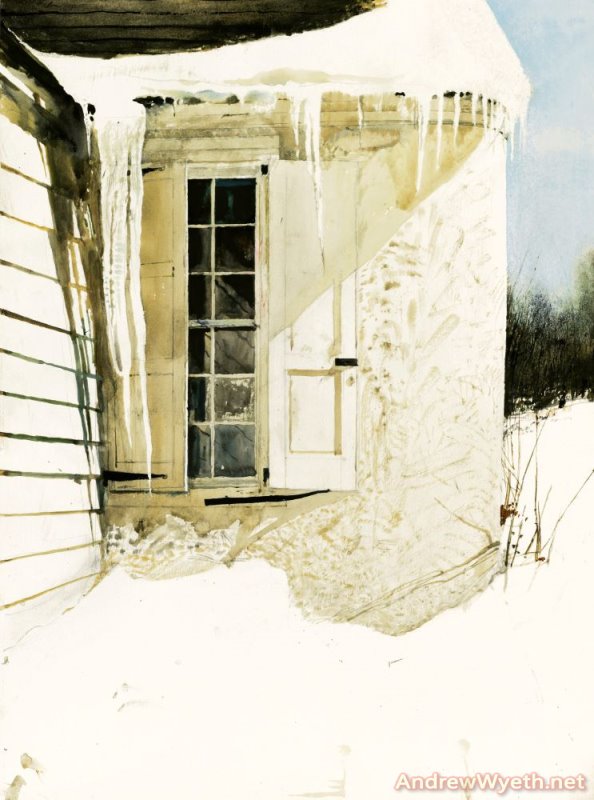 Title: The Observatory
Artist: Andrew Wyeth
Painted: 1978
Medium: Painting / Print / Watercolor
About Andrew Wyeth The Observatory Painting

watercolor and pencil on paper30 x 22 inches.

The familiar nature of the subject matter in The Observatory suggests one of Wyeth's accidental and patient visions. As Wyeth himself observes, "I'm not much for the new thing or the new object. I like to go back again and again because I think you can always find new things. There are always new emotions in going back to something that I know very well. I suppose this is very odd, because most people have to find fresh things to paint. I'm actually bored by fresh things to paint. To make an old thing I've seen for years seem fresh is much more exciting to me".

Andrew Wyeth first began experimenting with watercolor as a teenager after seeing a group of watercolors by Winslow Homer. He found a freedom of expression in the medium that he felt revealed an elusive side of nature and allowed him to spontaneously record the world around him. The Observatory depicts the back window of Wyeth's Chadds Ford, Pennsylvania studio, where he painted many of his most important works from 1940 until 2008.

Thomas Hoving notes, "Subject matter has always been of paramount importance to Wyeth, especially when it comes to him unexpectedly, or, as he likes to put it, 'through the back door.' He may start a scene and then see something days or weeks later that will make him completely change the first impression and, of course, the picture. He thoroughly believes…that you never have to add life to a scene. If you quietly sit and wait long enough, patiently enough, life will come—'sort of an accident in the right spot.' Such 'accidents' are the foundations on which the bulk of Wyeth's best visions are based…For the most part only the picture's titles offer any clues to the vivid experience behind an inspiration" (Andrew Wyeth: Autobiography, Boston, Massachusetts, 1995, p. 11).