Andrew Wyeth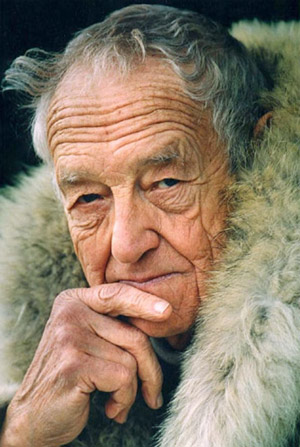 Andrew Newell Wyeth (July 12, 1917 – January 16, 2009) was a visual artist, primarily a realist painter, working predominantly in a regionalist style. He was one of the best-known U.S. artists of the middle 20th century.
Andrew Wyeth created nearly 300 drawings, watercolors and tempera paintings at Olson's from 1937 to the late 1960s. Because of Wyeth's popularity, the property was designated a National Historic Landmark in June 2011. In his art, Wyeth's favorite subjects were the land and people around him, both in his hometown of Chadds Ford, Pennsylvania, and at his summer home in Cushing, Maine. Wyeth often noted: "I paint my life." One of the best-known images in 20th-century American art is his painting Christina's World, currently in the collection of the Museum of Modern Art in New York City. This tempera was painted in 1948, when Wyeth was 31 years old. Perhaps his most famous image, it depicts his neighbor, Christina Olson, sprawled on a dry field facing her house in the distance. Wyeth was inspired by Christina, who, crippled from (undiagnosed) polio and unable to walk, spent most of her time at home.
Andrew Wyeth was a visual artist, primarily classified as a realist painter, like Winslow Homer or Eakins. In a Life Magazine article in 1965, Wyeth said that although he was thought of as a realist, he thought of himself as an abstractionist: "My people, my objects breathe in a different way: there's another core—an excitement that's definitely abstract. My God, when you really begin to peer into something, a simple object, and realize the profound meaning of that thing—if you have an emotion about it, there's no end."
Wyeth started drawing at a young age. He was a draftsman before he could read. By the time he was a teenager, his father brought him into his studio for the only art lessons he ever had. N.C. inspired his son's love of rural landscapes, sense of romance, and artistic traditions. Although creating illustrations was not a passion he wished to pursue, Wyeth produced illustrations under his father's name while in his teens.
Andrew Wyeth's father was the only teacher that he had. Due to being schooled at home, he led both a sheltered life and one that was "obsessively focused". Wyeth recalled of that time: "Pa kept me almost in a jail, just kept me to himself in my own world, and he wouldn't let anyone in on it. I was almost made to stay in Robin Hood's Sherwood Forest with Maid Marion and the rebels."
With his father's guidance, he mastered figure study and watercolor, and later learned egg tempera from his brother-in-law Peter Hurd. He studied art history on his own, admiring many masters of Renaissance and American painting, especially Winslow Homer.