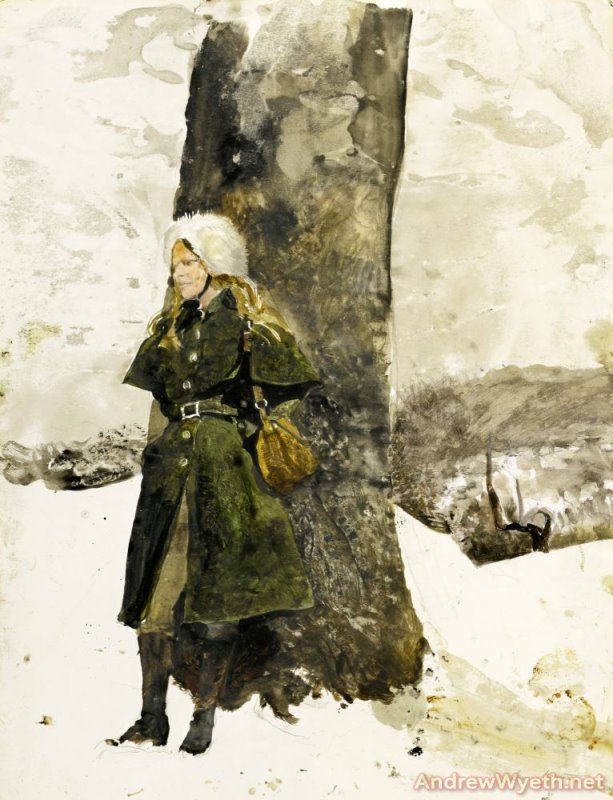 Title: In The Orchard (helga in Orchard)
Artist: Andrew Wyeth
Painted: 1972
Medium: Painting / Print / Watercolor
About Andrew Wyeth In The Orchard (helga in Orchard) Painting

Wyeth's watercolors from the series were particularly influenced by Winslow Homer's works of the late 1870s, many of which depict a lone, contemplative female figure standing in fields or woodlands.

Beginning in 1971, Andrew Wyeth produced over 240 images in tempera, drybrush, watercolor and pencil depicting a single woman – Helga Testorf. This collection of works, known as "The Helga Pictures" remained hidden from the world, and even Wyeth's wife Betsy, until it was purchased in almost its entirety by Philadelphia publisher Leonard E.B. Andrews in 1986. Andrews' intention was to preserve the collection for the public's enjoyment, and shortly after his purchase, the works embarked on a two year traveling exhibition curated by John Wilmerding of the National Gallery of Art.

Wyeth was first introduced to Helga by their mutual neighbor Karl Kuerner, whose family and farm in Chadds Ford, Pennsylvania had served as subjects of the artist's work for years, and was immediately captivated by her. Wyeth "depicted [Helga] nude and clothed, indoors and out, asleep and awake, in different seasons and times of day," documenting her physical and emotional evolution over a fifteen year period" (John Wilmerding, Andrew Wyeth: The Helga Pictures, New York, 1987, p. 11).